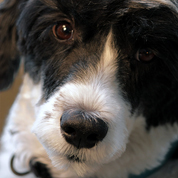 Grand Lares Raelin Gavriella,
Certified Service Dog
Name:
Raelin Gavriella
Origin:
Gaelic and Italian
Meaning:
"Wise protection" and "God's able-bodied one"
Breed:
Portuguese Water Dog ("Portie")
Breeder:
Grand-Lares Portuguese Water Dogs
- Jose Franceschi & Carlos Franceschi, Juana Diaz, Puerto Rico
Color:
Black & White
Markings:
Irish marked (white muzzle, neck, paws, and tip of tail)
Coat Type:
Wavy (as opposed to curly, the other Portie coat type)
Eyes:
Brown
Age:
Twelve Years
Gender:
Spayed Female
Breakfast:
Nature's Variety Homestyle
or
Weruva
canned dog food, any variety (it changes every other day).
Dinner:
Nature's Variety Instinct with Raw Boost
kibble with raw bits or
Spring Naturals
kibble.
Supplements:
Wholistic Bee Power
(organic, human-grade bee pollen granules),
Dasuquin
(preventative for joints; courtesy of Nutramax Laboratories),
Wholistic WholeCran Intense Soft Chews
,
Wholistic Deep Sea Salmon Oil
softgel capsules, and fennel seeds.
Tooth Care:
C.E.T. Enzymatic Toothpaste for Dogs
, malt flavor.
Flea/Tick Control:
Seresto
eight-month collar.
Vaccination Schedule:
Yearly titers (blood tests) to prevent over-vaccinating, except rabies which is every three years as per the law and leptospirosis which only lasts one year and is needed for our travels.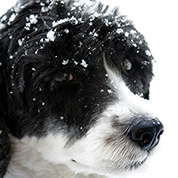 From snow to sand, she loves it all!
Favorite Toy:
She loves them all, but her current favorites are her "Where's Waldo?" toy and laughing blue monster plush. She hates rubber toys.
Favorite Treats:
She loves all food, but some favorites are peanut butter, fresh cheese,
Etta Says
rabbit chews and deer chews, and
Pizza Hut
pan pizza crusts (plus she gets her own Personal Pan Pizza with all the meat toppings on it for her birthday dinner each year!) She gets to have a wide variety of all-natural treats because she gets a
BarkBox
every month! I highly recommend them!
Favorite Vacations:
She loves to travel! She goes on both land/air trips and cruises. She has been to countries such as the Bahamas, Mexico, Turks and Caicos, St. Lucia, St Kitts, St. Maarten/St. Martin, St. Thomas, etc. She has been back to her homeland of Puerto Rico three times, once on a cruise; once on a pre- and post-cruise land trip, when we got to do the Bioluminescent Bay off of Vieques Island (before they stopped allowing people to swim in it); and once to pick up my successor dog as a puppy from their breeder. She has been to many different cities including Las Vegas, New York City, Raleigh, High Point, and others. She has been to Walt Disney World four times. She has been in various cars/trucks/vans/SUVs, taxis, trains, planes, cruise ships, ferries, water taxis, limos, etc. This is one well-travelled pooch!
Color-Enhancing Shampoo:
She stays very white and very black with
Chris Christensen
's "White On White" and "Black On Black" shampoos and "After Bath" conditioner.
Regular Shampoo:
In between color-enhancing baths, she stays clean with Chris Christensen's "Spectrum Ten Shampoo" and "Spectrum Ten Conditioner".
Rinseless Shampoo:
Chris Christensen's "OC Magic Foam".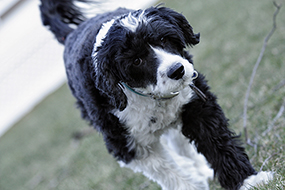 Like any dog, she loves to run and play in the yard.
Car Safety Belt:
She stays safe in the car by using the Snoozer car safety harness or, when not in her mobility harness (for trips to the vet/groomer/etc. or long road trips),
Champion Canine
's car safety harness and seatbelt set.
Collar:
Raelin has a big collection of different collars. Her current beautiful flower collar is from
Bow Wow Couture
on Etsy, plus she has a second one from the same shop. She also wears a prong (a.k.a. pinch) collar when working on-leash and a
Dogtra
remote electronic (a.k.a. shock) collar when working or playing off-leash (these are both humane training tools, despite what some folks try to argue, but one must know the correct way to use them).
Sunglasses:
The sun can damage animals' eyes, too, so she owns a pair of
Doggles
sunglasses, although she hardly ever wears them.
Identification Tag:
She has two different Tinker Bell tags from Walt Disney World (which can also be purchased from
Your WDW Store
if you can't make it to Disney World). She also has a variety of metal hanging tags for travel.
First Aid Kit:
She packs her
Ruff Wear
doggy first aid kit when she travels and keeps it close by at home. She also has an instant ear thermometer to keep tabs on her body temperature and has other health instruments, products, and a first aid book.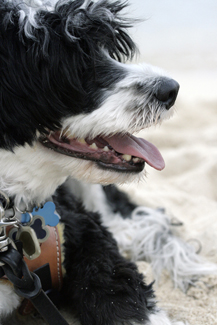 She enjoys land and sea vacations, like the cruise that took us to this beach in Cozumel.
Favorite Online Pet Stores:
She loves to shop at
Pet Food Direct
,
Pet Edge
, and various other online pet stores.
Other Favorite Links:
Some informative Web sites/pages are
The Portuguese Water Dog Club of America
,
the American Kennel Club
,
How to Properly Fit a Prong Collar on a Dog
,
Exercising Your Dog When You Have Physical Limitations
, and
Instructions for Performing the Heimlich Maneuver on a Choking Dog
.
*Links are provided only for the convenience of those who are curious about what we use. None of them are sponsored links and we get nothing in return for listing them here.