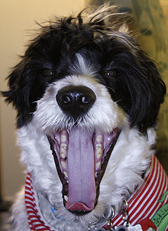 BIG YAWN!!
08/08-11/2015:
With tears in my eyes, I am sad to announce that Raelin passed away on the 7th, so these are the last updates to what will become her portion of the ThatCuteDog site. I added the last photo taken of her, from July, on the home page in remembrance of my beloved service dog, who will never be forgotten. I later realized the Facts page listed the wrong age and a few wrong facts, so corrected them. As a side note, stay tuned for a new portion of ThatCuteDog featuring my next service dog, Mokey!
02/13/2014:
After too long of a hiatus on updating this site, I have FINALLY updated the text on the Facts and Jobs pages!! I will not be adding additional photos to the Photos section, but hope you will enjoy the ones that are there from previous years. :-) The Message Board is permanently closed, sorry.
03/04/2010:
I've added the first few photos from 2010 to the Photos section as well as made a couple changes to the Facts page.
01/22/2010:
Feel free to send me your questions about service dogs, emotional support dogs, and Portuguese Water Dogs. I will answer them the best I can or direct you to sources that can help you. In addition to adding that information on the header of the site, I also added some photos with captions to the main pages of the site. Feel free to check out the Photos section for additional photos! More photos to come soon to the Photos section, as well.
12/07/2009:
I know that I have been terrible at updating this site, but now I finally have updated the Facts and Job pages as well as updated the Photos section with a bunch of new photos!!
10/31/2008:
Sorry for not updating the site in such a long time! I took new photos in June, but never got up to updating them. My grandfather passed away in July and things were a little crazy for a while. Now I've gotten around to updating the site with the latest Facts and newest Photos (June and Halloween).
02/28/2008:
I've been very bad with updating this site - so sorry! But now I have updated the Photos section with tons of new photos, including from our first cruise, and I've made some changes on the Facts page. Enjoy!
11/04/2007:
It sure has been FAR too long since I've updated this site, but I finally did it!! I updated some Facts as well as added Photos from the summer and fall.
07/15/2007:
Yippie! I finally updated the site again! I added photos from April, our May trip to Walt Disney World, and a June Red Sox game. I also updated some of the text on the Facts page. Look for more updates soon!
04/08/2007:
I added some text, put up a new link, and put some more photos in the photo album. Sorry for not updating the site in a while, but I've been ill and didn't even leave the house for almost three months. I didn't feel up to getting the photos off my camera and working on the site - plus I kept forgetting to do it. I do plan on updating more often, though, so do keep coming back for more!
04/08/2007:
Happy Easter!
02/21/2007:
I fixed this page so those of you with extra browser toolbars will get a vertical scrollbar so you can reach the e-mail addresses. Thanks to the person who reported the problem!
02/20/2007:
I changed and added a couple of things. Don't forget to sign up for our message board, where you can ask questions, read answers, and otherwise converse with others. It is just beginning, but the more who join, the better it will be, so join today! Click on the "Board" bone above.
01/19/2007:
I added some new content to the site. Enjoy!
01/13/2007:
Raelin & I came back from our family vacation to the Bahamas. We both had a good time. I couldn't have done it without her help. Thanks again, Raelin!
01/06/2007:
The official launch of ThatCuteDog.com! I want to thank you for visiting. Please look around at what I have up so far, but do also remember to come back soon as I will be adding more information and things soon!