Raelin is not a pet, but a working dog. She is a certified service dog (also known as "assistance dog"). She enjoys her job very much!
What is a service dog?
In the United States, a service dog is a dog that has been individually trained to do work or perform tasks for the benefit of its disabled handler. (A disabled person is someone who has a physical or mental impairment that substantially limits one or more major life activities, such as walking, hearing, seeing, working, caring for self, etc.) In other words, service dogs are trained to do tasks that mitigate their handler's disability, such as lead a blind person (guide work) or alert to sounds for a deaf/hearing impaired person.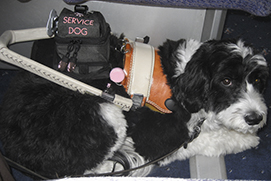 Raelin the service dog on a ferry.
Are dogs the only service animals around?
The U.S. law only grants access to disabled people with trained dogs (service animals), however in most cases, the law also gives access to trained miniature horses. There are also at-home-only monkey helpers for paraplegics.
Where are service dogs allowed to go?
In the United States, service animals are legally allowed almost everywhere their handler is allowed, such as stores, restaurants, hospitals, zoos, schools, hotels, banks, theatres, taxis, airports, airplanes, beaches, parks, and more. The only exceptions are religious places (churches, religious organizations, etc.), private clubs, private homes (but they must be allowed in businesses within private homes), places of lodging with less than five rooms if the owner also resides there, and places where the presence of the dog would unreasonably alter public safety or health (such as the sterile operating room of a hospital). The Department of Justice has declared that allergies and the fear of dogs are not reasons to bar a service dog from working in public. Some other countries have access laws, too.
Do all service dogs wear harnesses or vests?
Most service dogs do wear something that marks them as a service dog, but not all do and it is not required by federal law in the United States for a dog to be so marked while out. Raelin is usually, but not always, marked by her stiff-handled leather mobility harness and black backpack that has "Certified Service Dog" and "Do Not Touch" written on it.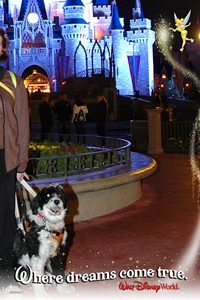 Service dogs are allowed almost anywhere, including Walt Disney World.
Are all service dogs certified?
No, not all service dogs in the United States are certified. The federal law does not call for certification of service dogs, so no all-encompassing certification authority or process has been developed. Service dog programs, schools, and trainers usually have their own certification that they give to dogs they have trained, however, so that is why some dogs, like Raelin, are certified. Other service dogs, usually ones trained by their owners or non-professional trainers, can be just as well trained but have no certification. It is against the law for a business to require certification from a service dog team. However, too many people are frauding the system by bringing their pets and emotional support animals out as (fake) service dogs, so someday there just might be a national certification system!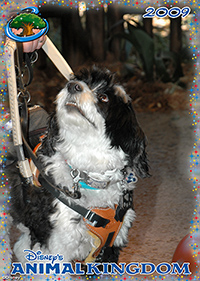 When on duty, service dogs need to stay focused on their handlers so they can help them when needed.
May I pet Raelin when I see her?
No, please do not pet, touch, call to, make kissing noises at, offer food to, or otherwise distract Raelin or any other working service dog. Doing so takes their mind off their job and handler, which could put their handler in danger. It is also illegal in many places to interfere with a service dog, which can come with a fine and/or jail time.
You don't look disabled.
Lots of disabled people don't look disabled. Examples of hidden disabilities are: deafness/hearing impairments, seizure disorders, diabetes, chronic pain disorders, neurological disorders, chronic migraines, and more. Just like your medical history is private and legally confidential, so is the medical history of every disabled person - so please don't badger them about what their disabilities might be; that's just rude!
What does Raelin do for you?
Raelin has many tasks she does that help me. Some examples are momentum pulling (helping me walk), balance and counter-balance (helping me not tip over due to neurological disorders and vertigo), retrieving objects (either by name or as indicated with a
green laser pointer
or a pointing finger or a tapping toe or other such indicator), and more.
What is Raelin's training?
She has been thoroughly trained and tested in on-leash obedience, off-leash obedience, public access to move from in-training status to fully-trained status, public access for certification status, and service dog tasks that mitigate my disabilities (also part of the certification process).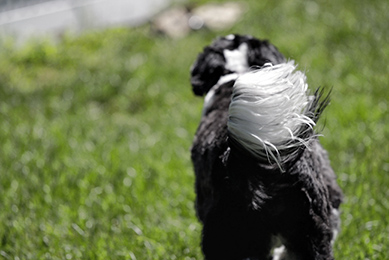 When off duty, service dogs get to romp, play, eat, and otherwise act like dogs on free-time. They do love their jobs, though, and are happy both in work and play.
We are a certified service dog team, which means we have been tested (and re-tested/re-certified) and observed by a professional service dog trainer and we passed those tests and observations. Our certification tests took place over three to four days going to various places such as various restaurants (both sit-down style and buffet-style), malls, grocery stores, Wal-Mart, a dog park/being around other dogs, a horse farm, etc. In our regular life we also go to/have been to all sorts of other places like various stores and restaurants, baseball games, airplanes, boats and cruise ships, Disney World, various hotels, and much, much more.
Does she ever get time to "just be a dog"?
You bet! When she's not working, she enjoys playing, eating, napping, sniffing around the yard, running around, getting petted and cuddled, and otherwise enjoying life.
Is it cruel to make dogs work for us?
Absolutely not! Dogs have a natural inclination to work, so they prosper when they have a job. They would much rather be doing something than just laying around an empty house all day long. Service dogs really enjoy helping their handlers.
Can any dog be a service dog?
No, it takes a special kind of dog to become a fully-trained and public access-acceptable service dog. Service dogs need to have the right kind of temperament, intelligence, and, in some cases, features (i.e. you wouldn't use a ten-pound dog for mobility or guide work, but you could use a ten-pound dog for hearing alerts). Many dogs that begin service training do not finish. These are called "career-changed" dogs.
Can a business ever legally ask for removal of a particular service dog?
If the dog is out of control, i.e. growling or barking at people or otherwise being a direct threat to others' safety or health, yes, the dog may be legally excluded (the person, however, must be allowed back in without the dog). A business cannot exclude a dog just because they
think
the dog might be a threat, however.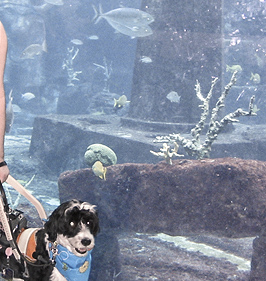 In order to help their person, service dogs go everywhere, even to aquariums. They are specially trained to not be distracted in all types of public environments.
How is it fair and equal access that a disabled person can bring their service dog places and a non-disabled person cannot bring their pet places?
A disabled person
needs
their service dog in order to use a public place, leave their home, and/or, in some cases, live. Just like walkers, canes, wheelchairs, and oxygen tanks, service dogs are vital medical equipment for their handlers. They are not pets. If people were not allowed to bring their service dogs places, they would not be able to use those places, which is discriminatory. Pet owners, on the other hand, do not have a need for their pet to be with them in public places. Pets are also generally not trained well enough to be in most public places and that can be a danger to others (i.e. tripping hazard or if the dog jumps up on people or knocks displays over) and especially to service dogs (i.e. a distraction or even an attack). Both disabled and non-disabled people are not allowed to bring their pets in public places that forbid pets. Health codes restrict pets from restaurants and other places food is served.
Are therapy dogs service dogs?
No, therapy dogs are not service dogs. Therapy dogs are anybody's (disabled or non-disabled) pets that have been trained to bring joy to people in nursing homes, schools, hospitals, hospices, etc. They cannot go into no-pets-allowed places unless they are invited. Therapy dogs are a great asset to the community, though!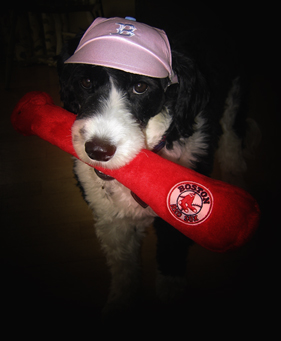 Go Red Sox!!
Raelin is a huge fan! She loves going to the games at Fenway Park.
Are emotional support animals service dogs?
No, emotional support animals are not service dogs. Emotional support animals are therapeutic pets, usually prescribed by a psychologist or psychiatrist, that help people with emotional difficulties or with loneliness (especially in the elderly). Under the USA's federal laws, emotional support animals are not service dogs and cannot go into no-pets-allowed places. They are allowed in no-pets-allowed housing and in the cabins of airplanes with a specific type of letter from the doctor who is actively treating the handler (owner). Although not trained to do work or tasks, emotional support animals can be greatly beneficial to their owners just by their presence, so they are a great at-home asset to people with psychiatric disorders.
Can service dogs in training go into no-pets-allowed places?
In the USA, there is no federal law granting trainers (whether they are disabled or non-disabled) access with their service dogs in training. Thankfully, some states have state laws that allow trainers to bring their service dogs in training places for training purposes. Each state varies, so trainers need to check the laws themselves to see what is and is not allowed. In states that do not give trainers access with service dogs in training, most businesses can still choose to allow these dogs in, if they would like. Such kindness is greatly appreciated, as a service dog in training needs exposure to and experience with all sorts of public places in order to become trained well in the public access skills needed by a fully-trained service dog.
Some service dog-related links:
The Department of Justice ADA Title III Code of Federal Regulations (CFR) Part 36
- Nondiscrimination on the Basis of Disability by Public Accommodations and in Commercial Facilities. This is where you can find the legal definitions of who is disabled, what a service animal is, what a public accommodation is, and many other laws to allow disabled people access to the places everybody else has access to.
The Department of Justice's ADA Brief on Service Dogs
- A handy one-page bulleted-point information sheet for businesses about service animals.
(PDF) - The Department of Transportation's Passengers with Disabilities Info.
- Includes the laws for flying with a service animal.
The Department of Transportation's Toll-Free Hotline for Air Travelers with Disabilities
- For general information regarding the rights of disabled air passengers, to request printed consumer information, and to get assistance with time-sensitive disability-related issues, call the number listed on this Web page.
ILRU's Service Animals and the Law: Which Animals Do the ADA & State Laws Recognize
- An informative archived Web cast featuring Sally Conway from the US Department of Justice, Ed & Toni Eames (guide dog handlers), and Aaron McCullough of the Disability Resource Project. Part 1 of 4. Dated 2004.
ILRU's Question & Answers About Service Animals: Which Animals Do the ADA & State Laws Recognize
- An informative archived Web cast featuring Sally Conway of the US Department of Justice and Aaron McCullough of the Disability Resource Project. Part 2 of 4. Dated 2004.
ILRU's Service Animals in Housing and Air Travel
- An informative archived Web cast featuring Betsy Darling and Allyssa Wheaton-Rodriguez from the US Department of Housing & Urban Development, Ed & Toni Eames (guide dog handlers), and Stacy Toomey from Continental Airlines. Part 3 of 4. Dated 2004.
ILRU's Transportation and the ADA: Latest Updates, Service Animals, Q&A
- An informative archived Web cast featuring Marilyn Golden from the Disability Rights Education and Defense Fund. Part 4 of 4. Dated 2004.
The International Association of Assistance Dog Partners
- A non-profit, cross-disability organization representing people partnered with guide, hearing and service dogs. I encourage both those with and those without service dogs to become a member in this organization. There are great benefits for service dog handler members. People who do not have service dogs can join as a friend member.
Assistance Dogs International
- This organization oversees a group of service dog training programs/schools. Their Public Access Test for passing a service dog can be read on this site.
The Delta Society
- Although this site is mostly about therapy dogs, there are some good pages about service dogs, as well.
How Stuff Works' "How Guide Dogs Work" Article
- This informative ten-section article explains what guide dogs do, where they come from, what "puppy raisers" are, guide dog training, guide dog retirement, and more.
Fieldstone Hill Publishers' "Practical Partners: A Service Dog Research Guide" book
- I highly recommend this book to anybody who is looking into getting a service dog or who is fascinated by service dogs. There is a lot of good information in this book, including why balanced training is best and what to do about children with service dogs in schools. The Web site has the table of contents for this thick book listed on it.
Top Dog USA's "Teamwork" and "Teamwork II" Books
- These spiral-bound books, and their accompanying video/DVDs, instruct people with disabilities how to train their own service dogs.
*Links are provided only for the convenience of those who are curious about service dogs. None of them are sponsored links and we get nothing in return for listing them here. This site is not responsible for the content of these links to other Web sites.